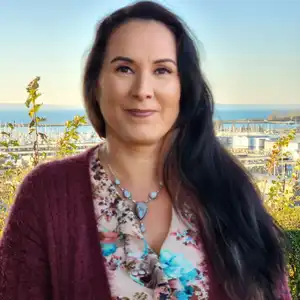 Tetana Adkins , BA, MS, MSW, LMHC
Tetana Adkins, BA, MS, MSW, LMHC
She/Her/Hers
LMHC (Licensed Mental Health Counselor)
Not accepting new clients
I am a holistic mental health therapist committed to providing quality care for adults via online therapy to meet you wherever you are at!
"The key to the seeker's quest is not in finding just the right piece of holy real estate on which to stand, but rather in so preparing his or her awareness that any space he or she occupies can become thin through faith."
― Steven Charleston, Choctaw Elder

"If you want to feel healthy, you have to be willing to let go of what is making you sick."
---Teachings of the Tao

Life is a journey consisting of so many wonderous experiences. At the same time, we are challenged often along the path in ways that creates in us this sense of struggle and hardship, of failures and heart pain. Suffering, however, is not what we're meant to do, and any challenges in our wellness are signals that something needs to be addressed. It is not a personal defect to falter, to lose our way at times, but an opportunity for growing and understanding who we are - who we truly ARE.

Mental health is health – it is from a holistic point of view an important part of how we process and experience our world. It is just as important as the physical, emotional, and spiritual aspects of wellness, and the concept of the Medicine Wheel teaches us that these parts of us are interconnected. When any of these parts of us are not in balance, the other parts will indeed suffer. For example, think about chronic pain. When we are in pain, it's hard to feel happy, to feel full in our emotional wellness. Our mental wellness will also decline when dealing with chronic pain, because we may constantly worry about how the pain impacts our day to day lives, such as being able to move about comfortably, engaging in our activities of daily living; maybe also performing tasks of a job. We may then notice increased anxiety around the pain experiences, and then the pain increases as we think about it. This is just one example of the interconnected nature of our life experiences and how the challenges can compound, creating difficulties for us to feel content and in balance.

My life's work has been called to a healing path. The vision I had for myself as a healer when I started is not what actually showed up, and I have embraced that, and even at times struggled with accepting that. Sometimes our expectations of ourselves and what our life will look like may not show up in that original vision – and that is ok! I have traversed an interesting path of personal, educational, and professional life experiences to get here today and be an honored part of your own healing journey. There have been many challenges, roadblocks, detours, and the like along the way, but I have learned and am continuing to learn that these experiences are for my own personal growth, in understanding myself, and getting to where I am today.
I describe myself as a lifelong learner, striving to stay curious and open to wonder, as well as being an observer of patterns – in myself and in others – that I believe help me guide you the client into recognizing your own patterns, increasing self-acceptance and understanding of who you are as a perfectly imperfect individual.

My professional therapy practice draws from a holistic model of wellness that balances the mind, body, and spirit, honoring the interconnectedness of all aspects of an individual from an empowerment, strengths-based focus. My working hours for therapy services are Monday through Friday, from 10am to noon; 1pm to 5pm, Pacific Standard Time. My practice is closed on evenings and weekends to maintain a work-life balance that allows me to successfully provide therapy services.

Via a HIPAA-compliant telehealth platform, I assist clients in exploring the power and impact of the mind on thoughts, beliefs, behaviors, habits and understanding their wellness from a holistic approach. I support clients in identifying ways to harness their emotions/reactions to be constructive and not destructive, increasing awareness and greater understanding of themselves as the unique individuals they are. I focus on collaborating closely with the client's unique needs and experiences within a safe, non-judgmental space so that the client can get the most out of their therapeutic sessions. I view clients as the true experts in their lives, and my role as a mental health therapist is to serve as a guide in the process of their recovery and discovery. I have experience working with clients who identify as BIPOC, LGBTQIA+, and Elders (55+).

My initial session with clients involves getting to know their unique needs as well as completion of a comprehensive biopsychosocial assessment of their challenging symptoms so that we can begin the process of establishing appropriate diagnosis/es. The following session may involve additional assessments, treatment planning, and safety planning. My focus during these initial two sessions is to make the clients feel comfortable with beginning therapy, as well as helping them understand how the therapeutic process will work. At all times, my goal is to ensure that clients feel heard and validated in this process – it is a true team effort.

Additionally, I am a Reiki practitioner, crystal healer, and energy worker. I believe in the power of our five senses in the physical and our five senses in the non-physical. I like to integrate the Medicine Wheel and holistic model in my work with clients, as well as explore the power of the mind on our body and spirit through mindfulness and somatic connections. I believe spirituality is an important part of who we are and can support the client's exploration of the spiritual side of the self, if the client is curious about that. I tailor my therapeutic healing work according to a client's identified needs, and work collaboratively in all of my approaches, so clients feel empowered in making decisions around their wellness. Please note: I do not prescribe any particular spiritual path, religious faith, or impose any views of the like on anyone, including my own views and practices! Spirituality is very personal and can be represented in a vast myriad of ways.

In my personal life, I like to practice yoga, mindfulness, Qi Gong, and Cheng-style Bagua Zhang – a powerful form of martial arts that integrates mind, body, and spirit wellness. My favorite hobbies are spending time with family, hiking, reading, camping, traveling, dancing, attending pow wows, and cuddling my two rescue kitties. My personal interests include exploring mindfulness, Taoism, Indigenous ways of knowing, and my own healing journey of understanding myself as the unique individual I am.

I hope that what I share here resonates in some way with you, opens your own curiosity to who you are as a unique being, and feels like what you are looking for in your own personal journey of healing exploration. It will be my honor to serve as a guide to your wellness, and I look forward to meeting you should you find me to be a good fit for what you need in therapy.
To your wellness!

Please note, I work with adult individuals only, 18+, sorry no teens or children.
To schedule an initial intake with me, please contact the Mindful Therapy Group admin team at https://www.mindfultherapygroup.com/inquire, or phone (425) 640-7009. I look forward to meeting you.
License(s)
LMHC (Licensed Mental Health Counselor)

LH 61128320, Washington
Professional associations
American Counseling Association
Membership type: Member
National Association of Social Workers
Membership type: Member
University of Washington School of Social Work

Year graduated: 2018

Degree: MSW
Cost per session
$150
-
$250
Accepted payment methods
Check
Zelle
Venmo
Credit Card
Accepted insurance plans
Tricare
United Healthcare
Out of Network
Self-Pay Only
Blue Cross/Blue Shield
Optum
Kaiser Permanente; Anthem
Inc; Magellan Health Services
Molina Healthcare
Inc.
United Behavioral Health/US Behavioral Health Plan
California/LifeEra
Inc.;
Specialties and clinical interests
Anger Issues
Anxiety
Body Image
Chronic Illness
Chronic Pain
Depression
Gender Identity
Grief & Loss
Highly Sensitive Persons (HSPs)
Historical Trauma
LGBTQIA+
Life Coaching
Mental Health Professionals
Pet Loss
Race-Based Traumatic Stress (RBTS)
Race/Ethnic Identity Challenges
Self-Esteem
Spirituality
Stress/Stress Management
Trauma & PTSD
Women's Issues
Art Therapy
Client-Centered Therapy
Cognitive Behavioral Therapy (CBT)
Dialectical Behavior Therapy (DBT)
Mindfulness
Trauma-Informed Therapy
LGBTQIA+
Biracial
American Indian or Alaska Native
Black
Trauma Survivors
Asian
Native Hawaiian or Other Pacific Islander
Indigenous American Religions
Wicca / Paganism
Available to see clients in
Years in practice
Types of clients
Adults (18+)
Older Adults (65+)
Individuals
Languages
Website and social media