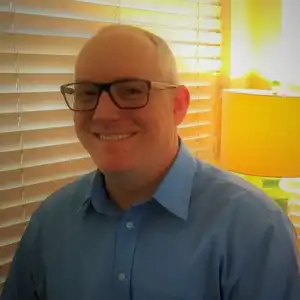 Christopher Michael , PhD
Claremont, CA
Online & In-Person
Free initial consultation
Free initial consultation
Perceptive, compassionate, and in-depth, I help you decode and resolve concerns with people-pleasing, social anxiety, body (somatic) symptoms, high emotional and sensory sensitivity, and toxic relationships.
Disappointed and worried, you review and rethink..."Perhaps I am just not ____ enough." Heart racing, you might have fumbled to say the one right thing. Maybe there's a heavy or empty longing from just pleasing others. Maybe a life shift, loss, or a breakup. Whichever, you figure you'll just have to get by. But then suddenly, you're awake deep in the night and can't focus in the day. Healthy habits fall away. Your body develops unusual symptoms. On top of that, others become worried or critical, you feel anxious, guilty, or hurt, and the cycle repeats.

To get you out of the cycle and into lasting, core change, you need balance. Insight with empathy. Determination plus patience. Acceptance before change. Most importantly, 'new experiences within safety'. Then you'll feel safe to decode unhelpful habits, release locked emotions, and make room for healthy, solid relearning.

A guiding quote for me (among many others) is: "Problems are the outward signs of unused inner possibilities." (R. May). Becoming self-accepting, self-compassionate, and confident may seem like a hard climb. But if we face it together, joyful relationships, internal peace, and improved performance can be your reality. The next step is simple: for a free 15-minute phone consultation, reach out by email or call/text me, and I'll be able to guide you.

About My Practice: I have a range of experiences but I will describe my main specialties. You will notice that they all center on self-confidence, self-compassion, self-respect, becoming familiar with unconscious internal and social habits, and learning how the body communicates troubles through physical symptoms and sensations.

People-pleasing is about losing track of your true self and needs, by trying extremely hard to keep everyone happy and strongly attached to you. It's a loss-avoidance strategy and pattern. Because you are always serving others, 'doing right', working hard, or being a well-meaning chameleon, it can lower your joy and lead to drudgery and nagging disappointments.

Boundaries & assertiveness refers to repeatedly getting emotionally dominated by people who just steamroller you, while you have trouble speaking up and setting some limits. The other person may do it without thinking, or may do it 'on purpose'. Either way, this can erode your self-confidence and leave you feeling repeatedly hurt, nervous, or resentful.

Toxic relationships are relationships in which compromise, two-way contribution, and honesty have broken down. Usually the one who comes to see me cannot seem to get out of the relationship and repeatedly tries to 'save' it or just 'maintain' and put up with it. This often happens out of fear of loss, or out of confusion about their role without the relationship. Ultimately, such relationships are stagnant, not fulfilling, or, sometimes, even depressing or worrying.

Social anxiety is the experience of fear at the time you are interacting with others, and anxiety about future such interactions. It can be more general, such as anxiety about just interacting socially, more specific to times when you are 'on the spot' in front of others, or both. I find that some interventions for social anxiety are helpful for people-pleasing and low assertiveness--both of which are related to how toxic relationships are maintained, too.

Highly sensitive persons (HSPs) account for about 20% of the population. This is a set of people who have the benefit and challenge of being more sensitive to: Their environment (sensory, noise, confusion, chaos). To ideas (they like depth and focus, and dislike rushing and spreading out attention). And emotions (they feel quite deeply). Most are also 'introverted', though some are extroverted or even thrill-seekers (who need to recover more). HSPs often are conflicted about their nature, their need to recharge and go slower, and their differences from the other 80%.

Finally, body-mind symptoms, also known as somatic symptoms, means body symptoms linked to stress or emotions. To treat with me about them, you need to have been evaluated by a medical doctor with: no major medical conditions found, a condition found that only partly explains the symptoms, or a doctor's opinion that the symptoms are influenced by stress and emotions. Often, the problem is: not being familiar enough with your emotions and stressors, an internal conflict about expressing emotions and needs, or symbolic expression (through the body) of a distressing experience or anxiety.

My approach: I integrate three main traditions to help you recover, grow, and thrive. The psychodynamic tradition is interested in unconscious (unaware but accessible) processes, such as automatic emotional responses, how we learn who we are through out connections to others, and how we manage conflicts between wishes and fears--while also having to juggle the social world. The way I work, the cognitive-behavioral tradition is then used to pinpoint mental, social, and personal habits, to experiment with new ones and try out what it would be like to give up old, ineffective habits. Encompassing all of this is the existential tradition, which helps me provide the presence and human understanding to keep you progressing, standing up to the difficult parts of life, and feeling awe and amazement at the positive parts of life.

Initial distress and emotional discomfort do tend to release quickly with me, but overall I work patiently and in-depth. By the end of a successful treatment with me, we will know each other well on the appropriate, therapist-patient level. In my experience, if you want deeper change and less sliding back into old habits, the process should not be be rushed. There are robust, rewarding benefits from a measured and deeper therapy relationship.

About insurance: I do not take it directly. However, I can provide superbills to submit to the many insurances that have an 'out-of-network' option, often for partial or full reimbursement.
License(s)
Psychologist

22265, California
Professional certifications
Certificate in Psychoanalytic Psychotherapy

Newport Psychoanalytic Institute
The University of Tulsa

Year graduated: 2006

Degree: PhD
Cost per session
$175
-
$175
Accepted payment methods
Check
Health Savings Account (HSA)
Credit Card
Accepted credit cards
Visa
Mastercard
American Express
Discover
Specialties and clinical interests
Anger Issues
Anxiety
Bipolar & Other Mood Disorders
Depression
Mental Health Professionals
Obsessive-Compulsive Disorder (OCD)
People-Pleasing; Highly Sensitive Persons; Body-Mind (Somatic) Symptoms
Personality Disorders
Phobias & Fears
Relationships
Self-Esteem
Stress/Stress Management
Cognitive Behavioral Therapy (CBT)
Psychodynamic
Highly Sensitive Persons
Artistic
Therapists
Location
Christopher Michael, PhD
415 West Foothill Boulevard
Suite 123
Claremont, CA 91711 US

Directions
Office is ADA Accessible
Licensed to see clients in
Years in practice
Service types
Types of clients
Adults (18+)
Older Adults (65+)
Individuals
Languages
Website and social media
Find a nearby therapist